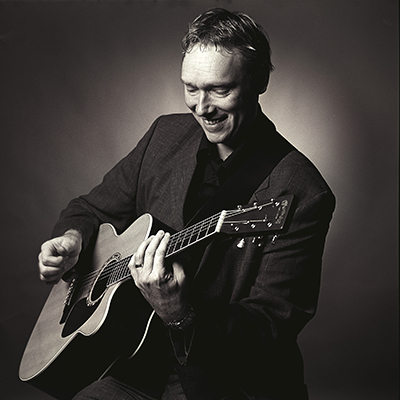 John Goldie
Originally from Airdrie, John's musical career began as an electric player, working as a session musician and sideman to numerous touring American artistes. A chance meeting with guitar legend Martin Taylor led to a fundamental change of direction to jazz and the acoustic guitar, and a collaboration that continues to this day with the Spirit of Django ensemble.
The list of guitarists who have invited John to work with them demonstrates how highly he is thought of in the guitar community: as well as Martin Taylor, John has played with Tommy Emmanuel, George Benson and the legendary Joe Pass, amongst many others.
John is signed to Scottish label Watercolour Music and has released 4 albums for the label, 'This Time and Place', 'Open 4 Closure', 'Picked In the Past' and his new album 'Chocolate Maze'. Both 'Chocolate Maze' and 'Open 4 Closure' features John with his band, showing a different side to his playing while 'A Little Of What You Fancy' and 'Picked In The Past' features reworkings of classic rock and pop songs, arranged for acoustic guitar by John. The albums have received a string of 5 star reviews and even won praise from Ronnie Woods, Brian May and Andy Fairweather Low.
John is now recognised as one of the most revered players on the acoustic circuit undertaking worldwide tours, taking in USA, Asia and Europe as well as collaborating with some of the world's greatest players, including Tommy Emmanuel, Ike Isaacs and George Benson. In fact George asked John to play a private concert for him and his band after one of their concerts in Scotland. John was also asked recently to play with The Faces at the Royal Albert Hall which he described as 'a surreal but amazing experience!'
John also has a long working relationship with AER amps, Martin guitars and Picato strings. He regularly plays at trade shows across the world as an endorser for these companies.
For the guitar geeks, John plays a Martin 0M28V and use an AER colouriser D.I box and T Rex Reverb pedal in a live situation. He also uses Wegen picks.